Kappa Kappa Iota members have been very busy so far this year! Featured below is an example of how fundraising has helped some State Chapters with projects and budgets. Let us know how your State goes about fundraising!
Epsilon Tau, Alpha State: To Sash or Not to Sash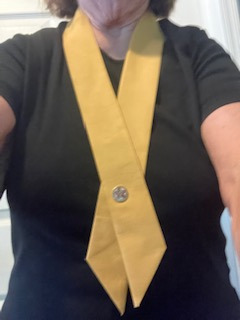 Are you needing a way to display your Kappa pins? Epsilon Tau chapter of Alpha state may have the answer with a fundraiser we are doing for our chapter and a member who will be a state officer for the next four years. We are making and selling scarves (or sashes) to wear around your neck to display your Kappa pins and other appropriate items. 
These are in Kappa colors (light and dark violet and gold). We also are making the Circular President's pin felt holders The scarves will be $15 each and the circular holders will be $5 each. If you are interested, you can contact Judy Landers at judy.landers@gmail.com. Several of both items are already made and ready to go.